Channel Cutter Yachts is a distributor for the Nature's Head® composting toilet. I have installed  and used all types of marine heads and holding tanks systems  during my 30+ years of building boats and cruising. I am convinced that the Nature's Head is the best solution to the difficult problem of human waste aboard a boat.
Shop now at our new online store for Nature's Head composting toilets!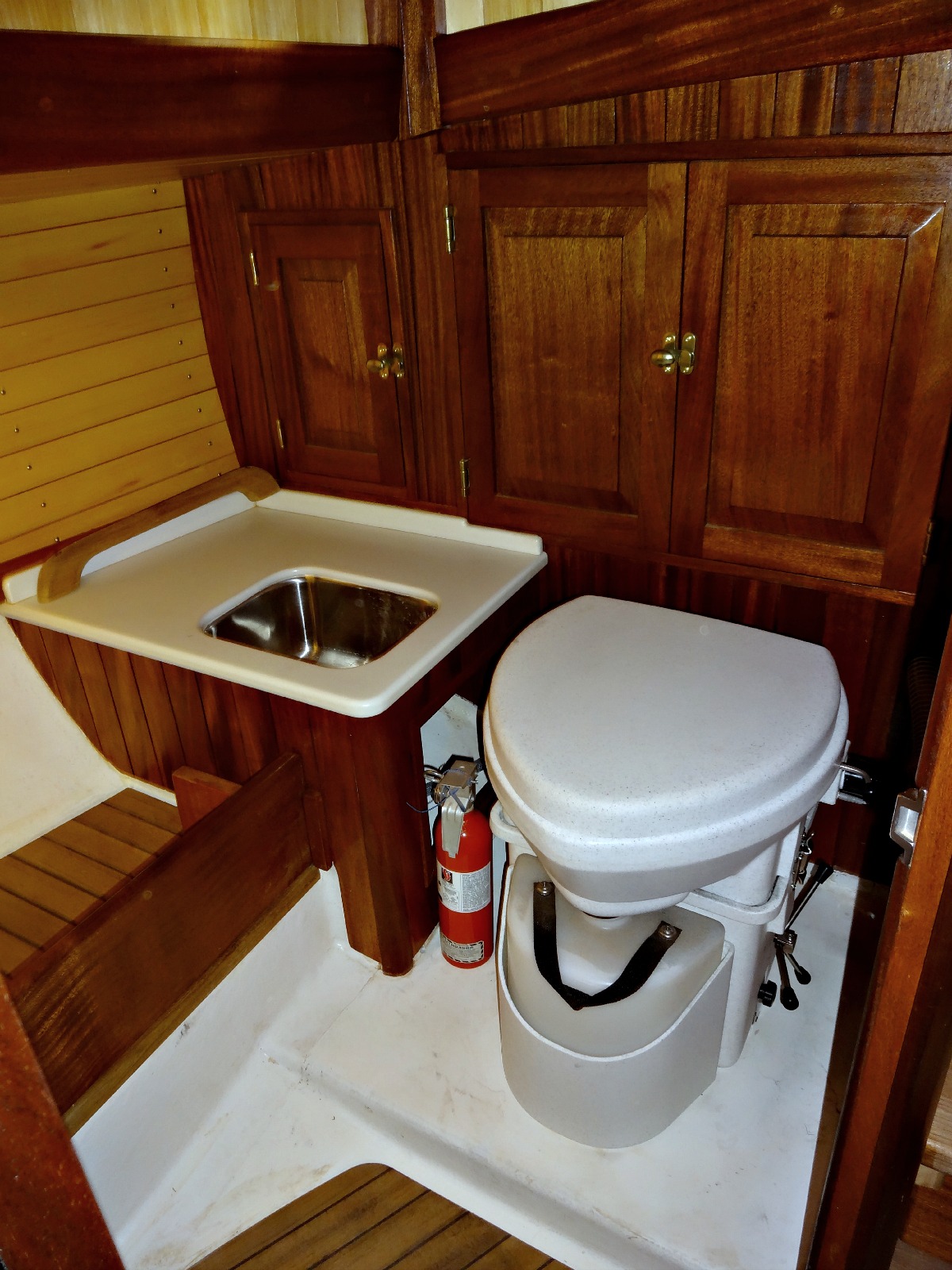 It is drastically better than carrying around a tank of raw sewage and looking for pumpout stations or a legal dumping site. When you add up the cost of a good quality marine toilet, with a holding tank, valves, thru hulls etc. it will often cost much more than a Nature's Head ($1299+tax at our online store).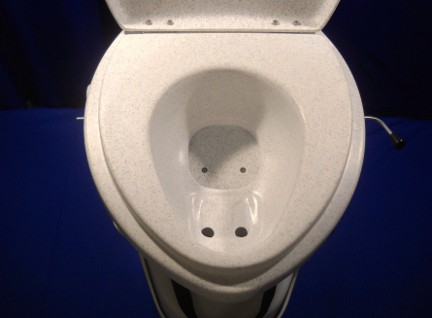 The key to the Nature's Head is the urine separating design. It is very simple. When men and women sit on the toilet, urine naturally flows forward, down the two drain holes shown. When the trap door is closed, all urine entering the bowl will flow into the urine drain. Sitting is recommended, especially underway.
The Nature's Head will hold 60-80 solid uses. This means that two people living aboard full time will empty once a month or so.
You can phone me directly (+1-250-722-3340) or purchase at our online store if you are interested in the Nature's Head. They are in stock and ship the next day.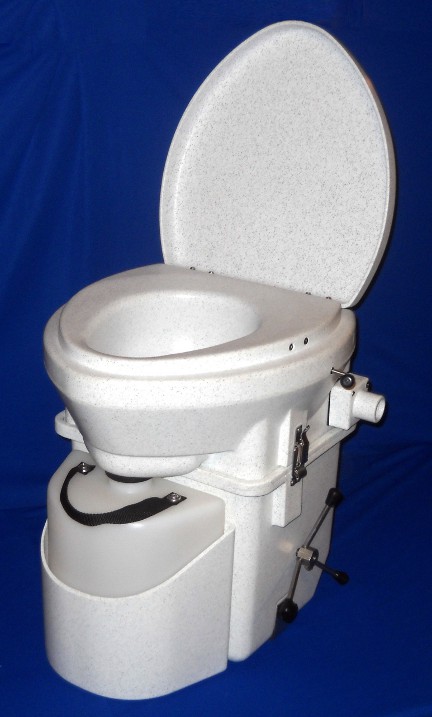 Molded seat
Easy clean
Durable
Never needs replacement
Urine separation
No odour
High capacity
Easy empty
Rugged
polyethylene
construction
5 year warranty!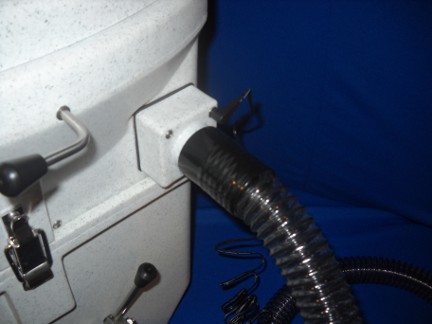 Here you can see the vent hose connection on the side of the toilet. This can be switched to either side of the toilet for convenient installation. The other side has an air intake. Air is constantly being drawn into the toilet and exhausted outside, with the aid of a small 12 volt fan (it draws 0.07 of an amp, which is less than 1 watt at 12 volts. It will use 1.7 amp hours of battery capacity every 24 hours). Power free installations are possible with the optional solar vent.
Below are the measurements of The Nature's Head (click for a larger image).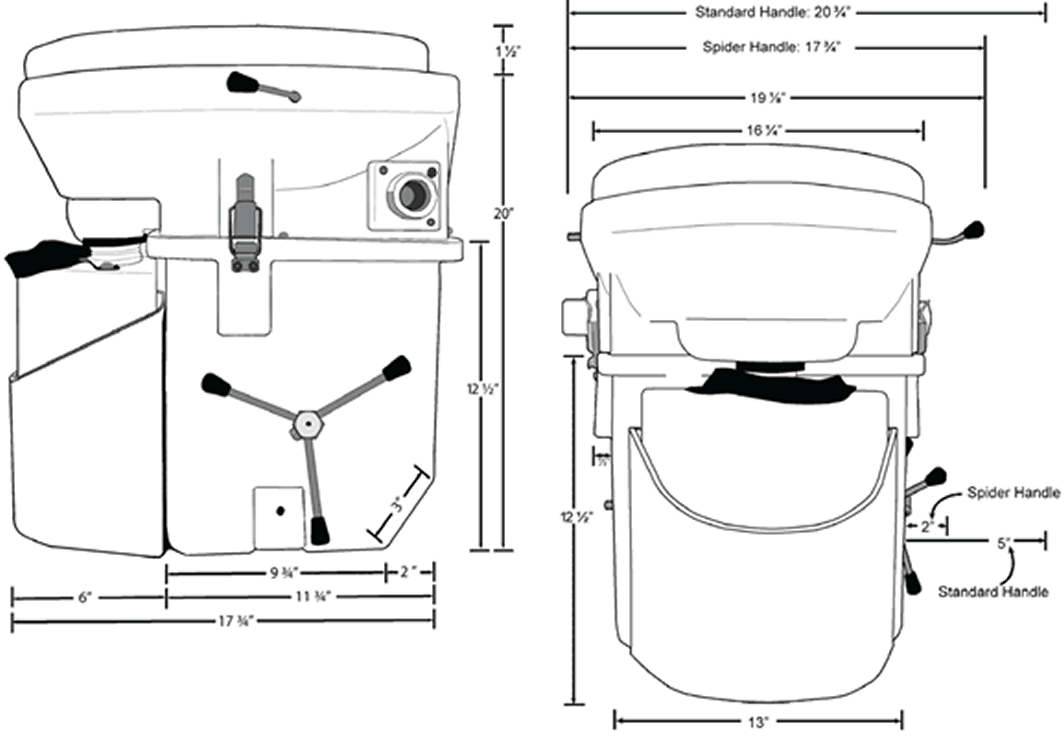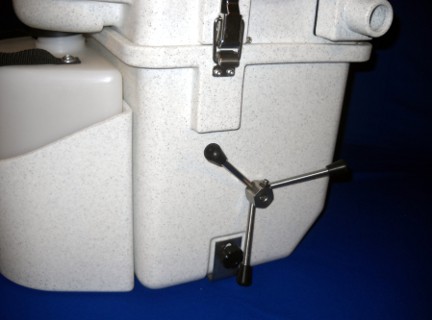 The Nature's Head comes with a choice of two handles – the 'spider' handle shown at left saves 3″ of space. All hardware is marine grade stainless steel.
Here you can see a close up of the 'crank' handle. The choice is yours.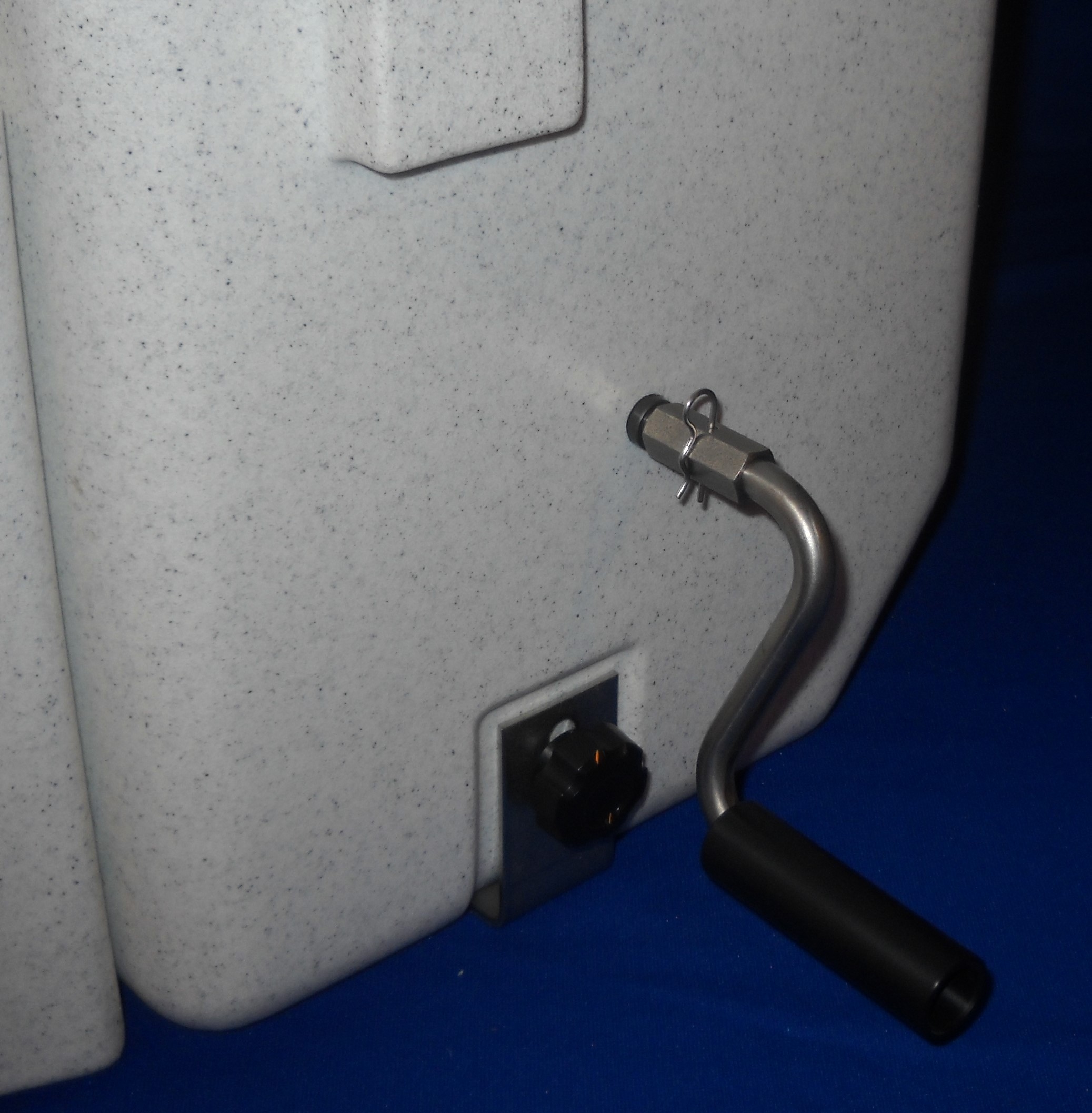 Both handles work equally well, but I suggest the spider handle for installations where space is a concern.
Peat moss or coconut coir is added to the base only after emptying the toilet. There is no need to add peat moss or coconut coir after each use.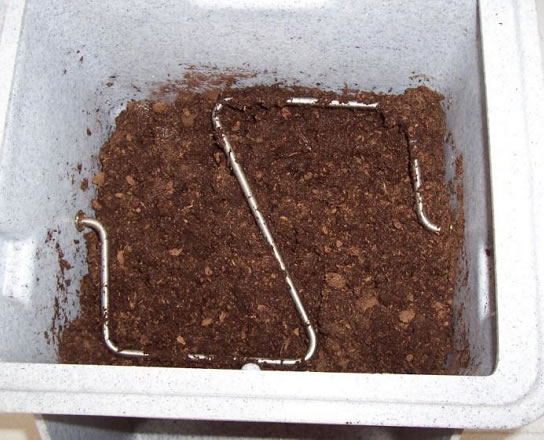 Below you can see how the top of the Nature's Head tilts up, to remove the urine bottle or to empty the base. When mounting against a bulkhead or wall, you should allow 2.5″ of clearance for tilting. This means you need to allow about 20″, from the bulkhead to the front of the toilet.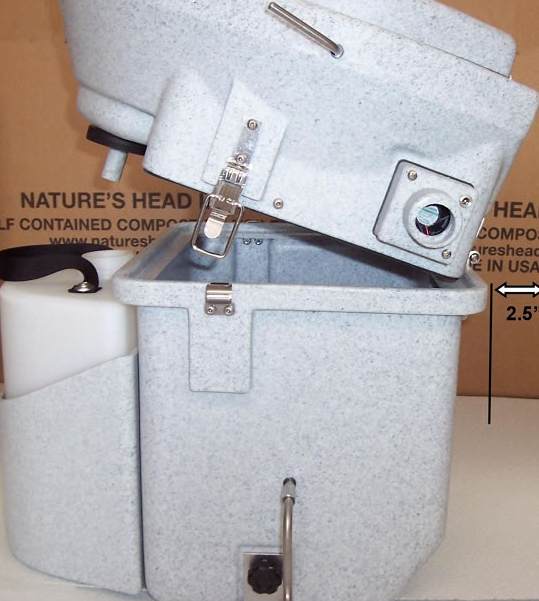 The urine bottle holds 2.2 US gallons. Urine is sterile and does not pose a health risk. Therefore, it is easy to dispose of either on shore or at sea.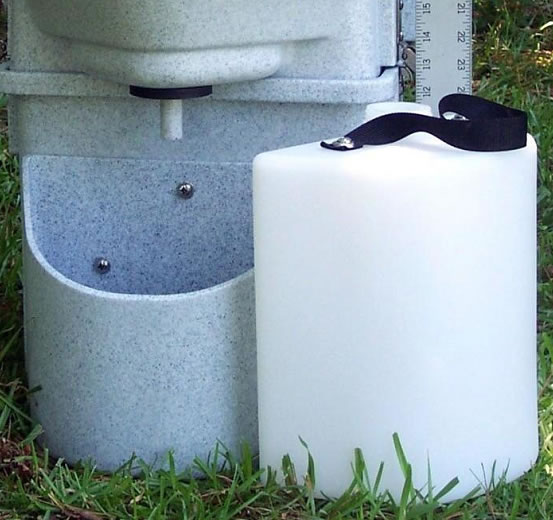 The Nature's Head comes with everything you need for most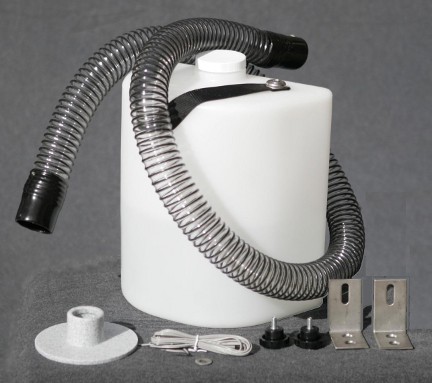 installations.  You will need to buy an external vent cap that suits your boat or dwelling. In the box you will find:
five foot flexible hose
instruction manual
ceiling or wall hose adapter flange
urine bottle with cap
two stainless L brackets with knobs
12 volt wiring with fuse
agitator crank
I am available should you have any questions during installation. It's an easy job that a fairly handy person could do in a few hours, in most cases. Feel free to reach out to me if you have any questions, or you can text chat with me at my online store https://www.gowithnature.ca (click the "Chat WIth Us" button at the bottom right).